Farms of all kinds run on a few of the same basic things: people, weather, and energy. To that list, I would add animals. Farm animals are sometimes part of the output (dairy, eggs, etc.); but they're always part of adding life to a place. At our farm, that's certainly the case.  
For years, we've had two male dogs at the farm:  Max, our beautiful short hair Labernese, and Alpha, a black and white Border Collie, owned by our employee François. Both are very intelligent and friendly dogs who get along fine.  
Last Fall, a friend told us a young female German Shepherd had adopted their house yard; she was either lost or abandoned. They couldn't keep her as they already had three dogs and were leaving for to Winter down South. So, we went to get her and see how she was. 
She got in the pickup – fast. As soon as the back door opened, she clearly knew what a vehicle was. So, she did have a master somewhere. She was friendly but nervous and she decided that François, our employee who went to get her, was her new master. She followed him everywhere. All the time. (To the point where she became jealous of his wife!) We posted a message to a local Facebook group to try to find her master, with no success. We decided to keep her and see if she would fit. 
Before she could enter the barn on our dairy farm, we had to ask the veterinarian to do a blood test on her to ensure she was free of bovine neosporosis. Bovine neosporosis is an important cause of cow abortions and seems to be increasingly detected in dairy farms. This parasitic disease is transmitted through dog droppings  from the cow to her calf during gestation. 
Bovine neosporosis is a parasitic disease caused by a coccidian parasite: neospora caninum. Signs of infection can be tough to spot, however it have serious consequences on the renewal of the herd in the most affected farms. Thankfully, she was not a carrier. So, we welcomed her into our farm family and named her, Fifille. (Not my choice but what can I say she responded to it right away so that was that.)  
The first month we were not sure we would keep her. She barked at some of our employees. She became even more protective of François but would also greet me and my partner. We saw she was very intelligent: she was quick to understand commands. To this day, we figure she likely ran away and was not abandoned.  
François and Marie, his wife, are from Belgium. They are foreign workers who are in the process of getting their permanent residency in Canada. François is my partner's succession for the land portion of the farm. (This story could be a blog on itself.) Just as they were heading back to Belgium to visit family, Fifille went into heat.  
Along the farm's perimeter, we have three houses and there's another across the street. Some of our employees live in these surrounding homes and we have one for us. Maxime, another employee who lives in the house across the street, also has a dog. Kip is a Golden Retriever, who is not fixed. So Fifille paid a couple of visits to Kip across the street. She became pregnant as François and Marie were leaving. With François away and with her tummy growing, Filfille became more friendly to the rest of our farm family – to the point where we all fell in love with her. She even conquered her fear of the cows and spent time in the barn. When François came back, the guys bet on the number of puppies Fifille would have. It went from 3 to 10. And her stomach kept getting bigger and bigger. She had been eating well – until she didn't, suddenly one morning. The next day, Superbowl Sunday, I knew something was up. I called François and headed to his house. At first, she followed me and then she understood where I was going and ran ahead of me. She tried to open the door, looking at me like she was saying: 'Please open the door. Please.' François opened the door, and she went straight to the basement under the stairs. 
François and Marie created her a nest with an old sheet and some of François's old clothes (for the smell). She felt secure and then the wait started. She had her first blond puppy (male), five hours later. A second blond (male). They had clearly been fathered by Kip. But the third and the fourth puppies (both female) were black and white. Turns out: François was a proud grandpa! Had Fifille visited Alpha, the elder dog, too? Two more black puppies emerged (a male and a female), making six puppies' total.  
Fifille made it through like a pro, even though the puppies were so big she could not take any of them in her mouth to move them. The next morning, a seventh puppy (a black female) joined the litter. We still don't know who fathered the three black puppies. No time for mystery solving…Filfille had seven mouths to feed. (She was not able to feed them while lying down for long; they were too big. So, she had to stand.)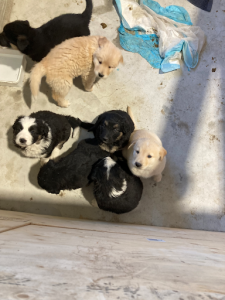 The puppies were so cute and friendly that they made my days start in laughter. (The mess seven puppies produce is far from a laughing matter, though.) Five weeks after birth, we moved them to a heated garage. Within a few days, a shy female puppy had chosen her new family: a John Deer mechanic who was working on site. She now goes by the name Summer.  
A week later, Méo (black male) and Ti-Fendt (blond male) found new homes, too. François took in a female black and white a likely daughter to Alpha. He and Marie named her Bonnie. The second blond male, Charley, is in a three-child family being loved and happy.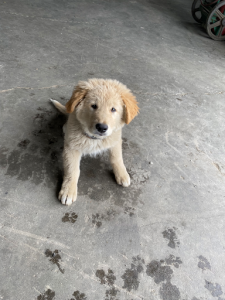 We have two left. Both are females: one black (Mademoiselle) and one black and white (Madame Louise). We are seriously thinking of keeping them, but we do have two possible families lined up. We'll see. Fifille got nurtured last week, with seven puppies she did her part for the future of dogs. Now, she will enjoy her time on the farm and live a long, happy life. 
You may have noted that this post has nothing to do with my usual subjects. But I wanted to share the experience with you. Farm animals are a part of what makes my new life so joyful. I had a great time taking care of these puppies, and I continue to get pictures and videos from their owners. I was very selective about who would get them; it's important when adopting an animal to understand what you are getting into. These beautiful dogs need physical and intellectual stimulation. They need care, love, and a pack leader. If you want to adopt an animal go to shelters, there are many animals who need a loving family. Or, perhaps, check in with a nearby farmer to see if they have some love to share. 
A consistent consumer of Canadian products (food, clothing, furniture, etc.), Isabelle Bouchard is a city girl now living in the countryside on a dairy and crop farm in Lac Saint-Jean, Québec.
Self-employed since 2019, she was previously employed by great Canadian companies and the Government of Canada. Consult her LinkedIn profile for details.
Isabelle is excited to participate with friends in this great project. Both Canadian producers and products need the support and love of Canadians to shine and prosper. There are so many people who denigrate our producers and our Canadian products that she feels it is almost a duty to participate in C3FC.