Is the inflationary wave coming to an end?
September 2022
There is no doubt that the last few years have had an extraordinary impact on our daily way of life, here and everywhere on the planet. We are going through a perfect storm as COVID, climate change, the housing crisis and the war in Ukraine have joined forces at the same time. These events have all contributed, each in their own way, to soaring inflation around the globe. Canada was not immune to the inflationary crisis during which the consumer price index (CPI) reached levels we had not seen for 30 years.
It is true that the price of gasoline has shattered records since the outbreak of war in Ukraine and that the conflict has also contributed to a spike in food prices, that COVID has caused immense disruption to supply chains (emphasized by China's Zero COVID policy), that house and housing prices have risen dramatically, and that climate change coupled with multiple extreme weather events, including major droughts or floods, are also contributing to price increases.
Food is no exception. Rising food prices are second only to energy. From August 2021, the CPI – food took off. From 2.7% in August 2021, it reached 9.8% in August 2022 (source: Statistics Canada).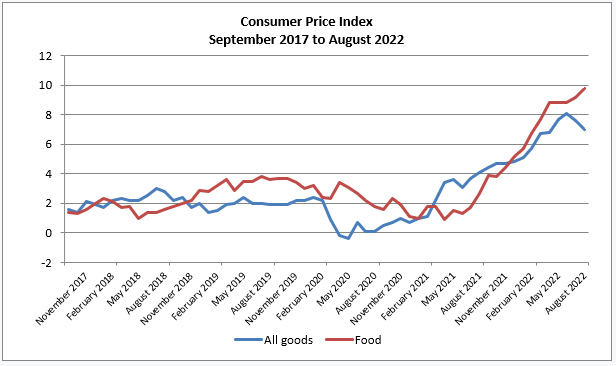 Since March, the Bank of Canada, like the other central banks, has raised its policy interest rate. It is the only tool central banks can use to fight inflation. Already, the effects are being felt, but the global situation (United States and Europe) remains preoccupying. Although the CPI for all goods is beginning to decline, the data for August remains high. However, food prices continue to rise.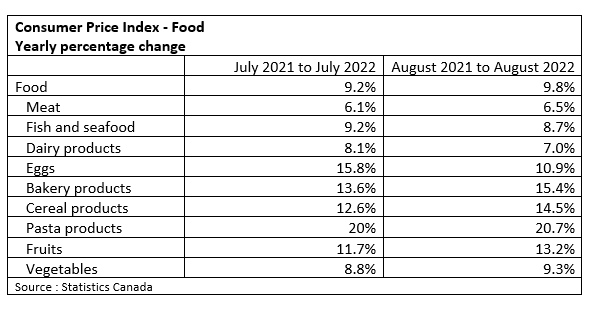 While further interest rate hikes are expected, the geopolitical context remains tense. The conflict in Ukraine could last for a long time, as could the sanctions against Russia. Although the G7, last June, insisted that "our sanctions packages are not targeting food and allow for the free flow of agricultural products, including from Russia, and the delivery of humanitarian assistance", Canada is the only G7 member country to have sanctioned fertilizer imports from Russia with a 35% tariff. Ukrainian wheat has finally started to leave the country since mid-August 2022; according to Reuters, 3.7 million tonnes have been exported since the agreement reached under the deal brokered by the United Nations and Turkey. This represents 60% of Ukraine's average monthly exports. With the cost of energy remaining high, everything indicates that the cost of food will remain high in the short and medium term, as shown by the data in the table above.
To be continued…